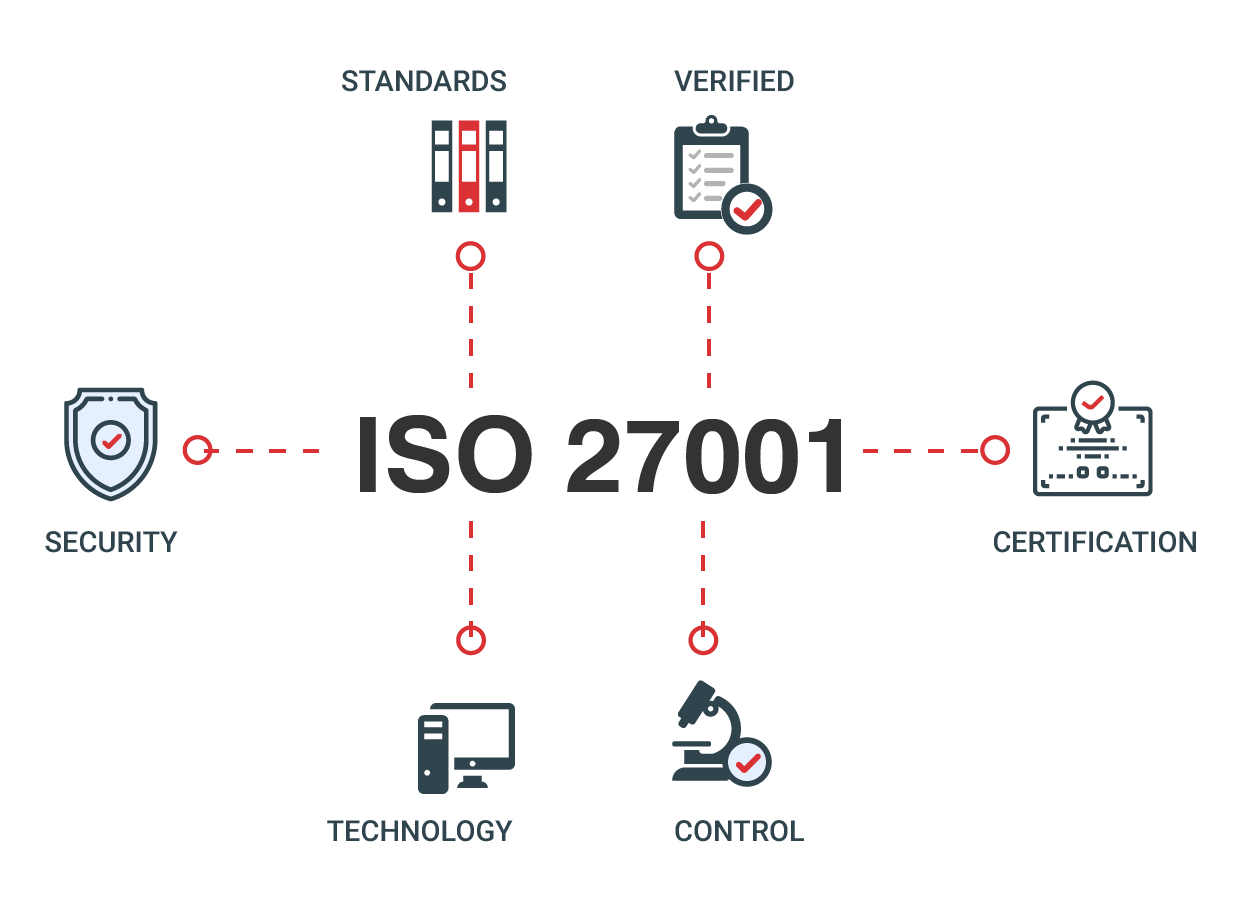 ISO
27001 Compliance
Achieving ISO 27001 compliance could be challenging to small and medium size companies, as they have limited resources. Yet it is possible to accelerate ISO 27001 compliance by simplifying and automating many of the security controls for threat detection and meeting compliance. SQ1Shield delivers the essential capabilities to demonstrate ISO 27001 compliance and be ready for audit with greater confidence.
Be Secure. Be Compliant.
Customized assessments of IT Landscape (on-premise network & cloud), to identify security controls that are necessary to meet ISO 27001 Compliance.
Locate gaps that exist between your current security posture and the requirements
SQ1Shield helps you confront your ISO 27001 compliance gaps so that risks can be prioritized and addressed
SQ1Shield built-in ISO27001 reports help you report easily on security controls
Customize the reports to meet your business requirements and stay Compliant
SQ1Shield & ISO 27001 – Fulfil Compliance requirement with SQ1Shield
ISO 27001 Control Objective
ISO 27001 Control
SQ1Shield Coverage

A5 Information Security Policy

A 5.1.1 – Policies for Information Security

Policy Management helps you establish policies, update it and circulate within your employees

A6 Organization of Information Security

A6.2.1 – Mobile Device Policy

Identify and monitor all mobile devices that have access to the network

A6.2.2 - Teleworking

Remote access monitoring

A7 Human Resource Security

A.7.2.2 – Information Security Awareness education and training

Security reminders - Automated updates of threat intelligence and security awareness shared through policy management portal

A7.3.1 – Termination or Change of employment responsibilities

Monitor & alert logon of de-provisioned users

A8 Asset Management

A.8.1.1 – Inventory of Assets

Asset Discovery – Identifies all the devices in the network including firewalls, routers.

A.8.3.2 – Disposal of media

Media destruction procedures established and stored, update it and circulate within your employees

A9 Access Control

A.9.1.1 – Access Control Policy

Policy Management helps you establish policies, update it and circulate within your employees

A.9.2.2 – User Access Provisioning

Monitor and log the provisioning and de-provisioning of user accounts on endpoints, in Office 365 (Azure Active Directory), and G Suite.

A9.2.3 – Management of Privileged access rights

Monitor and log successful and failed logon events to assets across your on-premises and cloud environments.

A9.2.6 – Removal or adjustment of access rights

Monitor & alert logon of de-provisioned users

A11 Physical and Environmental Security

A11.1.2 – Physical entry controls

Perimeter access control device assessment and monitoring

A11.1.3 – Securing offices, rooms and facilities

Endpoint Detection and Response – Secure all workstations

A11.1.4 – Protecting against external and environmental threats

Guest access Procedures established and stored, update it and circulate within your employees

A11.2.7 – Secure disposal or reuse of equipment

Media destruction procedures established and stored, update it and circulate within your employees

A12 Operational Security

A12.1.1 – Documented Operating Procedures

Policy Management – Review and update all policies and procedures documents within the portal

A12.1.2 – Change Management

Monitor & alert configuration changes within your network

A12.2.1 – Controls against malware

Identify malware-based IoC, orchestrate manual and automated actions to isolate infected systems and block malicious domains.

A12.3.1 – Information Backup

Review and test the Data backup and recommend remedial measures

A12.4.1 – Event Logging

Aggregate logs and events from systems, applications, and devices from across your on-premises and cloud environments.

Monitor access to and attempt to modify system and application binaries, configuration files, and log files.

Monitor user access to your Cloud environment

A12.4.2 – Protection of log information

Monitor access to and attempt to modify system and application binaries, configuration files, and log files.

File Integrity Monitoring can detect modification attempts to applications or online storage containing critical data.

A12.4.3 – Administrator and Operator logs

Monitor and log successful and failed logon events to assets across your on-premises and cloud environments

Monitor user and administrator activities, including access and modification of files and content, in on-premises and cloud-hosted assets

A12.4.4 – Clock Synchronization

Monitor and alarm which could indicate issues or attempts to disable clock synchronization

A12.6.1 – Management of Technical vulnerabilities

Perform vulnerability assessment on all networks, applications, wireless including AWS or Azure

Threat intelligence feed ensures that SQ1Shield operates with latest correlation directives, threat signatures and provide guided remediation

13. Communications Security

13.1 – Network Controls

Monitor and correlate events gathered from network traffic (network IDS, cloud IDS) and network devices (routers, switches, firewalls, and more) to identify anomalous network traffic, such as communication to a known malicious server Classify threats across a kill-chain taxonomy to inform the risk level of that threat Monitor public and dark web sources for the trade or communication of stolen credentials

A13.2.3 – Electronic messaging

Monitors for phishing or malware attacks against email services, including Office 365 and G Suite

A14 System acquisition, development and maintenance

A14.1.2 – Securing application services on public networks

Monitor and alarm on Group Policy errors, which could indicate attempts to disable local security services and introduce misconfigurations that compromise asset integrity and security

A14.1.3 – Protecting application services transactions

Monitor and correlate events gathered from network traffic (network IDS, cloud IDS) and network devices (routers, switches, firewalls, and more) to identify anomalous network traffic, such as communication of transactions and data to a known malicious server

A14.2.8 – Systems security testing

Perform application vulnerability testing during SDLC process

A14.3.1 – Protection of test data

Review and test the Data Storage & backup and recommend remedial measures

A15 Supplier relationships

A15.1.2 – Addressing security within supplier agreements

Vendor Risk Management – Perform third party risk assessment and monitor the risks in third party that have access ePHI.

A15.2.1 – Monitoring and review of supplier services

Perform vulnerability assessment on Vendor Network and remediate.

A16 Information security incident management

A16.1.2 – Reporting information security events

SQ1Shield enables monitoring and review of alarms, events, and reports Built-in notification capabilities enable analysts to be alerted to alarms through email, and SMS

A16.1.4 – Assessment of and decisions on information security events

Uses threat intelligence and correlation capabilities to detect threat and analyzes and swiftly respond

A16.1.5 – Response to information security incidents

Uses security orchestration and playbooks provides automated response to incidents

A16.1.6 – Learning from information security incidents

Provides forensic analysis of the incidents to ensure that such breaches do not reoccur

A16.1.7 – Collection of evidence

Aggregates events and log data from across your on-premises and cloud environments

A17 Information security aspects of business continuity management

A17.1.2 – Implementing Information security continuity

Review the contingency plan in place and recommend remedial measures

A18 Compliance

A18.1.3 – Protection of data

Review and test the Data Storage & backup and recommend remedial measures