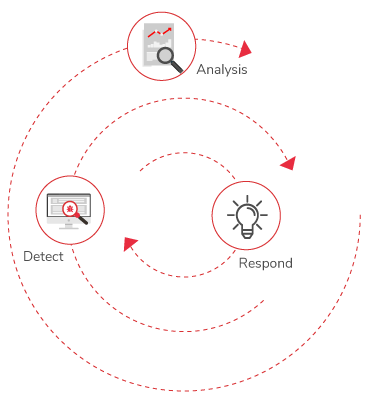 Managed Network
Detection and Response
SQ1Shied continuously monitors your network and perform threat hunting for known and unknown attacks using network threat analytics and skilled threat hunters. SQ1Shield helps analyze threat intelligence and data from multiple vectors, and correlate anomalies to provide full visibility to identify complex, multi-channel attacks. An automated incident response is activated once a threat is identified to remediate the incident.
Detect Known & Unknown Threats
SQ1Shield proactively performs threat hunting to detect the known and unknown threats using anomaly detection and behavioral analytics. Real-time blocking of signature-based threats within your network will identify and remove the threats before a catastrophic breach.
Full Packet Capture
SQ1Shield uses full packet capture technology to capture full data capture and network flow analysis - including SSL decryption to identify threat and trends that relate to protocols, hosts and bandwidth usage. By combining network flow data along with threat intelligence to deliver 24 x 7 threat monitoring, alert investigation, event and file analysis to facilitate swift incident response.
Defend against Targeted Attacks
SQ1Shiled ensures that systems are optimized with correlation rules that link together events and raise alerts when specific threats or behavior is identified. It helps identify the latest threats within your network and evolve your security against them.
Features
Immediate threat visibility.
Real time State change and event monitoring.
Global Treat Intelligence.
Threat investigation and response.
Benefits
Customize security strategy.
Optimize defenses.
Proactive threat monitoring.
Rapid response to incidents.