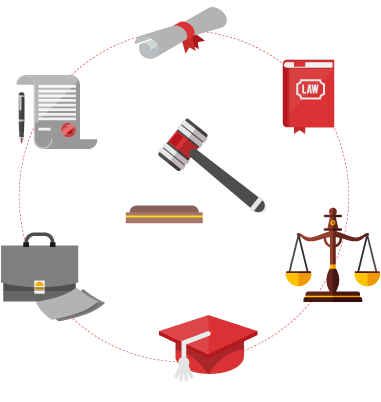 L
egal
Overview
SecqureOne is dedicated to protecting law firms and other legal organizations from cyber-attacks and client information loss. Law firms hold sensitive information within their networks, and that information needs to be guarded with the utmost security available. Security breaches to a law firm can lead to lawsuits, damage to reputation, and loss of sensitive information; however, law firms are often less equipped to secure their infrastructure and communications as effectively as the clients that they represent.
Solution
SQ1Shield is a highly flexible and scalable solution that is based on industry best practices, and is designed to assist Law firms address the security challenges in the following areas.
Vulnerability Assessment.
Penetration Testing.
Policies and Procedures.
SIEM & Log Management.
Vulnerability Assessment – Conduct a Vulnerability Assessment on a semi-annual basis to identify the vulnerabilities in the network and applications. This process is to identify potential vulnerabilities in the electronic media within the organization that uses to create, receive, maintain or transmit client data.
Penetration Testing – Conduct a Penetration Testing on a semi-annual basis to detect the holes in the network and applications. This process is to perform a test from a hacker perspective to check if the vulnerabilities can be compromised within the organization.
Policies and Procedures – For implementing security within the organization, it is important that they adopt policies and procedures that adhere to the requirements. SecqureOne shall provide a comprehensive policy and procedure solution that will utilize the best practices within the industry.
SIEM & Log Management – SQ1Shield provides a complete security management platform on a 24 x 7 basis. Our platform can integrate with any other technology, allowing us to bring in data from all sources and present our analysts with total attack context when investigating security events. The deep expertise and experience of our security professionals help protect clients from internal and external threats and to facilitate compliance.
Features
SQ1Shield is tailored to meet every Small, Large Legal Firms for their security requirements. Key features include.
Bundled outsourced solution for a fixed monthly fee
24x 7 monitoring of assets, periodic vulnerability assessments, security risk analysis, automated incident response, policy and compliance analysis.
Keeping you compliant with the regulatory requirements, to help you focus on the business of delivering exceptional patient care and services.
Benefits
Gain Momentum - Move your business forward by focusing on your core competencies instead of security.
Reallocate Resources- Spend less on infrastructure, staff and training.
Mitigate Risk- Maintain your state of security, reducing risk and scope. Our Security experts ensure your solution remains up to date.
Long-Term Commitment – Our annual support program ensures support to business of all size
Expert Advice – SecqureOne experts bring wide experience in establishing continuous security