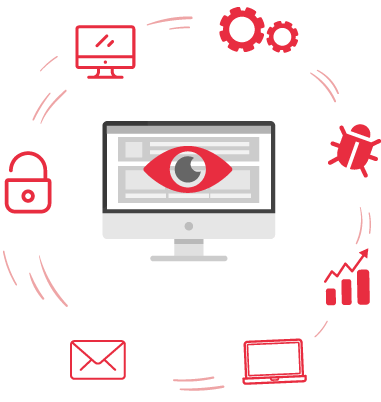 Managed Endpoint
Detection & Response
Endpoints are easily compromised by cybercriminals to gain a foothold on a network. It is essential that appropriate controls are in place to detect and respond to threats quickly. SQ1Shield Endpoint Detection and Response is designed to detect new forms of malware, prevent malicious activity and remediation capability to enhance incident response.
Detect known and unknown Threats
SQ1Shield EDR agents monitor and proactively hunt for known and unknown threats in each endpoint and provide full visibility of potential threats. It records every file-execution and modification, binary execution, registry change and network connection in every endpoint across the network (Cloud or on-premise).
If a suspicious behavior is detected, it is validated, and immediate action is initiated to contain the compromised endpoint. It resolves the threat and ensures that the endpoint is protected from similar attacks in the future.
Hunt Proactively
SQ1Shield prioritize threats, filters out false positives, and provides threat hunt on a proactive basis. Our experts utilize the latest detection technologies and threat intelligence to search for Indicators of Compromise (IOCS) & hunt for threats across endpoints.
Immediate Response
SQ1Shield enables analysts to easily and rapidly execute endpoint-specific or network-wide response measures related to memory, file, registry, processes and network. It helps to act against adversaries to stop attacks in real time before the threat becomes a breach.
A quick and powerful response allows containment while investigating compromised systems; threat eradication and return to normal business operations.
Features
Signature and Behavior-based threat detection.
Real time State change and event monitoring.
System Quarantining.
Network-wide searches for attack kill. chain visualizations.
Block new threats through streaming prevention.
24 x 7 Event monitoring.
Benefits
Pure Behavioral Detection beyond IOCS.
Automate Threat Hunt.
Reduces time to Respond.
Decreases Risk of Breaches.
Increases security efficiency.